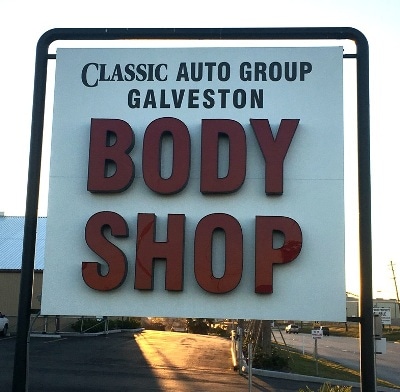 Our Classic Auto Group Galveston Collision Center in is dedicated to providing all of our customers with a repair experience that is second to none. The ongoing mission of our business is to only develop long-term relationships with all of our customers and get to know them on a personal level.
At Classic Auto Group Galveston Collision Center, we are dedicated to helping you get your vehicle back on the road in the most efficient way possible. We are dedicated to providing you with a collision and body shop repair experience that not only gives you the best possible repairs to your vehicle, but also treats you with the respect that you deserve.
Relax... And Enjoy the Difference... Island Style!!!  at Classic Auto Group Galveston
DIRECT NUMBER (409)761-2206

Our Classic Auto Group Galveston Collision Center proudly offers a number of services for our loyal customers. These services include 24 Hour Vehicle Status Availability, a lifetime limited warranty, service after repair completion and a free shuttle service back to our body shop after your car repairs are complete.
We accept all makes and models, and we will provide you with a completion date for your vehicle based upon the repair estimate and reasonable parts availability. We accept all insurance estimates and we can advise you if filing a claim would be in your best interest. We are happy to answer any questions that may arrive before, during or after the repair process, so don't hesitate to call us at (409) 761-2206 with your concerns.
Owner's Rights
1. OWNER'S RIGHTS - You have the right to go to the repair shop of your choice. Your insurance company cannot require you to go to a particular shop. 
2. INSURANCE CLAIMS ASSISTANCE - At Classic Auto Group Galveston our experienced staff will provide you with any assistance you may require to process your claim.
 3. CERTIFIED TECHNICIANS - Our experienced repair teams use the latest in repair and paint equipment technology. Annual training includes the latest methods and technical information available for our General Motors, Ford, Honda and Toyota franchises. I-Car Gold Class training and paint manufacturer training.
 4. COMPETITIVE PRICING - In most cases Classic Auto Group Collision Center will meet or beat competitor's prices.
 5. REPAIR WARRANTY - Limited lifetime warranty. (See dealer for details)